Expression et compréhension écrite et orale.
Révision des pièces de la maison / l'heure / les questions Who?When?What?Where? / les verbes d'activités.
Jeu du cluedo en anglais. Se joue par groupe, en 5 équipes.
Intitulé du jeu : Papa et/ou Maman laissent leurs 5 enfants à la maison toute une journée et leurs demandent de réviser vos les leçons... mais à la place vous préférez vous amuser! En rentrant, le(s) parent(s) devinent qu'un enfant à jouer, mais qui? à quoi? quand? dans quelle pièce de la maison?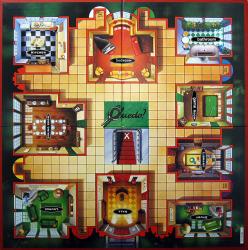 Fraichement experimenté cette semaine!
Pour 5 groupes :
1) Fabriquer 5 cartes de pièces de la maison (le lieu du crime!),
d'activité (MES-english a de superbes flashcards : watch TV, Email friends, etc)
de créneaux horaires (from 3:00 pm to 6:00 pm, etc)
Bien sûr laissez les groupes choisir un nom de personnage et fabriquer leur propre carte.
2) Ramassez les 20 cartes classées par catégories.
Piocher une carte dans chaque tas et glisser la dans une enveloppe (noire si possible... plus mysterieux!)
Mélanger le tout et distribuer 3/4 cartes par groupe.
3) L'élève ayant noté les personnages, les activités, les lieux et 'l'heure du crime' pourra barrer les cartes qu'il posséde sur son cahier d'inspecteur.
4) Chaque groupe, l'un après l'autre, répond aux questions du maître du jeu :
"A : Who do you accuse? B: I accuse Super Mike.

A: What is he doing? B: He plays video grames
A: Where does he play? B :He plays in the bedroom

A: When does he play? B: He plays from 1:00pm to 1:00am"

Chaque groupe accuse un autre groupe pour se défendre, le groupe accusé devra montrer les cartes qu'il possède (Mike et/ou Video games et/ou bedroom, etc) et les informations pourront être barrées sur le cahier d'inspecteur.
Au bout de 30 minutes de jeu, les élèves feront leur ultime accusation.
Le maitre du jeu sort alors les cartes de l'enveloppe noire et désigne le vainqueur.